The
VnD-10M Siren
with its similar feeding and cooling mechanisms, resembles a bigger, heavier brother of the
VnS-10 Scylla
mounted machine gun. It is in fact a very different kind of weapon, spewing 40 x 46 mm low velocity grenades instead of bullets at a much lower fire rate. It has proven to be very effective against squads of infantry and light armored vehicles.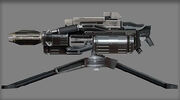 Ad blocker interference detected!
Wikia is a free-to-use site that makes money from advertising. We have a modified experience for viewers using ad blockers

Wikia is not accessible if you've made further modifications. Remove the custom ad blocker rule(s) and the page will load as expected.