Visari Hammer is a multiplayer map that appears in Killzone 2 .
The large battles generally take place in the middle of the map and at the ring around the this multiplayer map doesn't really excel on any game mode, but doesn't allow a single class to dominate. This is a very large, complicated map, so be ready for complex battles and lots of flanking. Sabotuers seem to do well because they can sneak up behind enemies and blend from behind.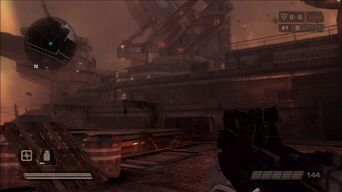 The Visari Hammer is one of the largest Arc Towers in the region near the capital, whose primary function is to defend the Palace from airborne assault. It is fueled by six Petrusite towers, each defended by standard troopers and mounted guns.
Ad blocker interference detected!
Wikia is a free-to-use site that makes money from advertising. We have a modified experience for viewers using ad blockers

Wikia is not accessible if you've made further modifications. Remove the custom ad blocker rule(s) and the page will load as expected.