The article is a Stub!
"It seems you want this article to be expanded. It will be my pleasure."

Expand the article as well as you can!
CAUTION!

This page contains story elements that may spoil the experience for you.

Watch out while reading this, or don't at all, until you know what's coming.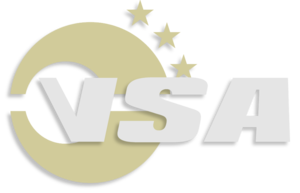 The Vektan Security Agency (VSA) is the intelligence branch of the ISA and provides security to the Vektan side of the planet and capital city. Its director was Thomas Sinclair. They make their first appearance in Killzone: Shadow Fall.
Powers and Control
Edit
The VSA has their jurisdiction in Vekta and Vekta City. The VSA gathers intelligence through Shadow Marshals and their Special Forces branch. The VSA has their control in media, transportation (such as the Fly Rail system), Civilian Data (such as bank records, their medical history, etc.) and Survelliance System. They have Cruisers flying above the city of Vekta along with ISA VTOLs patrolling the city. It seems they have disguised drones also flying above the city.
Units of The VSA
Edit
VSA Security Forces - Highly trained security operatives. They have training in Security protection and Counter Terrorism operations.
VSA Special Forces - Highly trained special force operatives. They basically do covert operations in Helghast side of the Wall under great risk. There are 4 class of troops-Assault, Sniper, Engineer and Medic.
It appears that the VSA resembles the real life United States Central Intelligence Agency.
The VSA is both ally and enemy in the events of Killzone: Shadow Fall. You play against VSA forces when Echo takes revenge on Sinclair.
The logo of the VSA appears to look very similar to that of the official Norwegian post office.
Ad blocker interference detected!
Wikia is a free-to-use site that makes money from advertising. We have a modified experience for viewers using ad blockers

Wikia is not accessible if you've made further modifications. Remove the custom ad blocker rule(s) and the page will load as expected.