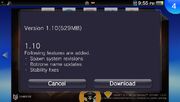 The latest patch for Killzone: Mercenary has been officially released today, July 2nd, 2014. Here is a detailed description of the patch: 
"This contains some revisions to the spawn system's selection criteria, which we're hoping will improve the multiplayer experience - particularly for team-based play. We'll continue to review spawn quality, so please feedback on any issues that may still be in play, post-update."
—Facebook.com
One of the most complained aspects of Killzone: Mercenary's multiplayer has always been its spawns. While spawns aren't much of an issue on some of the larger maps (e.g. Inlet, Tharsis Depot, Blood Gracht), smaller battlefields like Marketplace or Skyline have had major spawning issues. Previous patches have promised to fix this, although improvements have been minimal. Wether or not patch 1.10 will finally solve the spawning issue is yet to be seen. 
"Elsewhere, we've also addressed several stability issues that the community's highlighted, and tackled a couple of the reported glitches that people were exploiting in matches. Again, combined, we hope this leads to an improved play experience for everyone."
—Facebook.com
In addition to spawns, some "stability issues" have also been looked into. This is pretty vague, but it should basically help you stay inside a match (or find one, for that matter). Some glitches have also been exploited, although which ones in specific is unknown. 
"Finally, for those with the Botzone update, we've added new botnames as chosen by the winners of our recent competition. If you spot yourself in there, then many congratulations "
—Facebook.com
For those of you who don't know, Guerrilla Cambridge recently held a competition for the Botzone DLC. Basically, players registered some names they would like to be used on the AI in the Botzone mode. If you were high enough on the leaderboard, your names may have been submitted! 
Thats basically everything added in through patch 1.10. Guerilla Cambridge has noted that player feedback is very appreciated, and that future patches are coming. To submit input to the team, simply comment on the official Killzone forum. 
Ad blocker interference detected!
Wikia is a free-to-use site that makes money from advertising. We have a modified experience for viewers using ad blockers

Wikia is not accessible if you've made further modifications. Remove the custom ad blocker rule(s) and the page will load as expected.