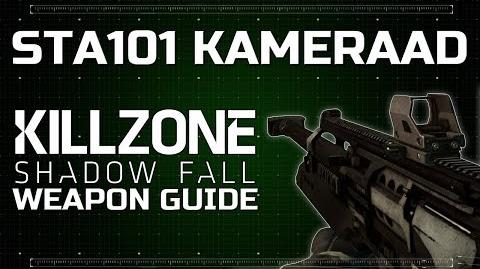 The
StA101 Kameraad
is a semi-automatic sniper rifle featured in
Killzone: Shadow Fall
. It is manufactured by
Stahl Arms
for use by
Helghast
forces, and shares a number of similarities with the
StA59B Pulver
assault rifle.
Weapon Information
Edit
The StA101 is one of two Helghast sniper rifles in Shadow Fall, both of which are semi-automatic. The Kameraad is faster-firing and deals less damage than the StA61 Vultur. Both can be equipped by the Scout class in multiplayer. The StA101 has undergone the most changes since launch, with the gun being patched multiple times to increase the rate of fire, and balance both the recoil and muzzle flash. Additionally, the Kameraad appears to be built from the same base platform as the StA59B Pulver, as the two guns are almost identical.
Ad blocker interference detected!
Wikia is a free-to-use site that makes money from advertising. We have a modified experience for viewers using ad blockers

Wikia is not accessible if you've made further modifications. Remove the custom ad blocker rule(s) and the page will load as expected.