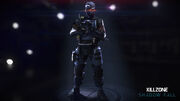 Security Troopers are the backbone of Helghast Security. They're always on guard against ISA infiltrators. Their agility and convergence tactics compensate for their vulnerability in comparison with other Helghan forces. They are highly mobile and they are easy to kill. In the second mission of the Killzone: Shadow Fall campaign, you infiltrate a hydro powerplant, inside the dam complex you will encounter 4 security troopers that patrol different areas. When you later get outside you will encounter 4 more security troopers, but you will not encounter all 4 of them at the same time, the first 2 you encounter will be killed automatically by your personal OWL drone.
Ad blocker interference detected!
Wikia is a free-to-use site that makes money from advertising. We have a modified experience for viewers using ad blockers

Wikia is not accessible if you've made further modifications. Remove the custom ad blocker rule(s) and the page will load as expected.