Home
Talk

4
598pages on
this wiki
Featured Article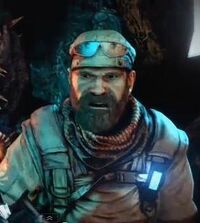 Kowalski was a reconnaissance scout of the ISA who was stranded on Helghan after their pyrrhic victory at Visari's Palace. He helped Tomas Sevchenko get through the hostile Kaznan Jungle on Helgan.
Featured Media
Create blog post
News
The new map, Canyon, has been added to Killzone: Shadow Fall for free. You can now download it from the Playstation store. The file is 603MB. Have fun!

Read more >

GG- Killzone Shadow Fall Intercept places you and up to three of your friends on the elite VSA team known as Intelligence Squad Alpha. Operating behind enemy lines, your team is on a mission to intercept and relay Helghast military transmissions back to VSA headquarters. To succeed, you'll need to k…

Read more >

Killzone tweeted this.

https://t.co/T9ofr8NGz3

If dat link doesn't work here's KZ twitter: https://twitter.com/killzone

Read more >
See more >
About Killzone 3
Killzone 3 is a first-person shooter for the PlayStation 3, developed by Guerrilla Games and published by Sony Computer Entertainment. It is the fourth installment in the Killzone series and the first game in the series to be presented in 3D; it is also the first to include motion controls using the PlayStation Move.
The game picks up immediately after the ending of Killzone 2 and follows the previous game's main protagonist, Sev, a Special Forces operative fighting for the Interplanetary Strategic Alliance against the Helghast Empire. The game's story has been referred to as being similar to the story of David and Goliath. The game continues shortly after Sev successfully defeated Radec and Rico killed Visari, the Helghast dictator. Walking outside the palace after these two encounters, they come face to face with a fleet of Helghast ships approaching them, which engage the retreating remains of an ISA Battlegroup.Y8
Killzone 3 Screenshots