Featured Article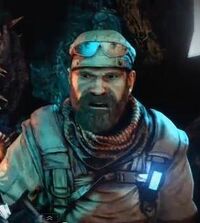 Kowalski was a reconnaissance scout of the ISA who was stranded on Helghan after their pyrrhic victory at Visari's Palace. He helped Tomas Sevchenko get through the hostile Kaznan Jungle on Helgan.
Featured Media
Create blog post
News
The new Statue map has been added to Killzone Shadow Fall for free. In addition, players will be given two new maps for Intercept for free (assuming they have the DLC) called 'Canal' and 'ATAC tower'.

Read more >

You can now download the OST for Killaone Shadow Fall for $9,99, £6.99, €7.99 or your regional equivalent. The soundtrack features 18 pieces of music taken from the game.

Read more >

First of all, sorry for the late coverage of this. I've only just discovered it.

Killzone Shadow Fall has added two new maps, StormGracht and The Terminal for free, It can now be downloaded in US territories!

Enjoy!

--Slow Reader (talk) :P 10:15, July 29, 2014 (UTC)

Update: The news maps are available …

Read more >
See more >
About Killzone 3
Killzone 3 is a first-person shooter for the PlayStation 3, developed by Guerrilla Games and published by Sony Computer Entertainment. It is the fourth installment in the Killzone series and the first game in the series to be presented in 3D; it is also the first to include motion controls using the PlayStation Move.
The game picks up immediately after the ending of Killzone 2 and follows the previous game's main protagonist, Sev, a Special Forces operative fighting for the Interplanetary Strategic Alliance against the Helghast Empire. The game's story has been referred to as being similar to the story of David and Goliath. The game continues shortly after Sev successfully defeated Radec and Rico killed Visari, the Helghast dictator. Walking outside the palace after these two encounters, they come face to face with a fleet of Helghast ships approaching them, which engage the retreating remains of an ISA Battlegroup.Y8
Killzone 3 Screenshots