Home
Talk

4
571pages on
this wiki
Featured Article
Mael Radec - Colonel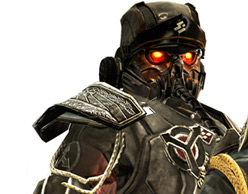 Colonel Mael Radec, known as the "Hound of Visari," is the commander of Visari's personal guard. Formerly an Academy Commandant, he is highly evolved for his function. Radec is utterly focused on his duties and maintaining order and discipline - in Killzone 2 he had two Helghast grunts executed for "uniform violations." While a gifted tactician, he is merely a competent strategist.
His genius lies not in the planning, but in the fighting of battles. Radec is noted for leading from the front in battle. He combines situational awareness with a near-perfect assessment of the capabilities of both his own men and the opposing force. In personal combat he is ruthless, vicious and overwhelming.
Which faction would you support?

 
Create blog post
News
GG- To celebrate the imminent release of our first Free Map DLC on March 4th, we are making the acclaimed KILLZONE SHADOW FALL multiplayer available for FREE to all Playstation® 4 players for a week, starting 3rd of March 5PM PST. Best of all, you will not require PS PLUS to play the Free Access cli…

Read more >

Today the first two free dlc maps for Killzone: Shadow Fall have been revealed to be "The Cruiser" and "The Hanger." The Cruiser is fit for close-to-midrange combat, while The Hanger is will be more open. No release date is yet known but we should get one rather soon.

For season pass owners the firs…

Read more >


Killzone: Shadow Fall has arrived alongside the PS4 and it's easily the best looking of the system's launch games. The graphics may be great, but does Shadow Fall's gameplay and story live up to the previous Killzone games?

Check out the critical response below and let us know your thoughts in the c…


Read more >
See more >
About Killzone: Shadow Fall
Killzone: Shadow Fall is a first-person shooter exclusively for the Playstation 4. Developed by Guerrilla Games and published by Sony Computer Entertainment, it is the six overall installment in the Killzone series.
Taking place approximately thirty years after the events of Killzone 3, the Helghast and Vektan people live side by side in a futuristic city, divided by a vast wall.
Tensions are high, and the cold war they are embroiled in is about to go hot. In the midst of this all stands a Shadow Marshal, you. The most special of the special forces, tasked with maintaining the delicate balance. From responding to bold attacks, to quiet infiltrations or all out combat, you will be required to adapt and think on your feet as you have to face a variety of escalating events that could destroy your home world. [1]
Killzone: Shadow Fall Screenshots