Kaznan Jungle is the location of the hidden remnant ISA troops under the command of Captain Jason Narville.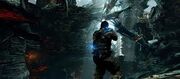 After six months of successfully eluding the
Helghast
forces under the command of
Admiral Orlock
they are finally discovered by scouting Helghast forces (under the command of Jorhan Stahl) who discover the ISA satellite uplink. The jungle is home to many dangerous fauna and flora, including the exploding
"burster" plants
, as well as other attacking
spiders
and folliage. During the Jungle mission
Sev
and
Kowalski
employ a variety of stealth tactics to subdue an alarmingly large number of Helghast soldiers. This is the only mission in which stealth tactics are used, and where the
M66-SD Submachine Gun
is a usable weapon. Mid-mission Sev sends Kowalski back to camp to warn Narville of an impending Helghast attack on their camp while he goes on alone (or with
Natko
if you're playing co-op) to complete the mission at hand and re-establish a connection with
Earth
. It is at this point that the ISA command on Earth informs Narville that they must surrender so that their release may be negotiated.
After a fierce battle at the ISA camp Narville and Sev are taken hostage while Kowalski and the other survivors are executed. Some appear to have escaped initially, such as Hooper, who reappears on several occasions later with Rico and Jammer. It is presumed that Jammer and the other Raider troups encountered the surviving ISA at some point during the attack on the Stahl weapons facility.
Multiplayer
Edit
In Killzone 3 there is a multiplayer map based on the location. The map is available for Guerrila Warfare only.
Using a LS13 Shotgun or other close quarters combat weapons can be very useful in this map since theres not allot of open wide areas, turrets can also be useful.