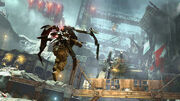 Junkyard is a
Killzone 3 multiplayer
map which was added in the Steel Rain Map Pack. The junkyards of
Helghan
are a wasteland to some, but a valuable resource to others. In the main junk processing facility of Helghan,
ISA
and
Helghast
Forces are clashing in an attempt to salvage vehicles and supplies for their war effort.
Jetpacks
are the key to taking the high ground, but the huge
Exoskeletons
can quickly turn the tide of the battle on the ground. The map only supports Guerrilla Warfare.
This is a good map for sniping because of the tall piles of junk has a very good view on the map, using the jetpack to get to the moving cargo on the crane (the only way to get there) can be also useful.
Ad blocker interference detected!
Wikia is a free-to-use site that makes money from advertising. We have a modified experience for viewers using ad blockers

Wikia is not accessible if you've made further modifications. Remove the custom ad blocker rule(s) and the page will load as expected.