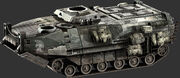 The ISA AAPC is the preferred amphibious assault transport for ISA infantry. It is good at absorbing punishment but not as good at dishing it out, the AAPC is fairly slow, but heavily armored all-around. Moreover, it is quite reliable. It has a very low profile, holds six men, and is equipped with a top mounted LMG that provides adequate suppressive fire while troops deploy through the rear exit hatch.
| | |
| --- | --- |
| | Specifications |
| Speed | 3/5 |
| Range | 520km |
| Weaponry | Top-mounted light machine gun & smoke grenade launcher |
| Armor | 4/5 |
| Weight | 35 tons |
The AAPC is identical to the AAV-7, but with less weaponry.
Ad blocker interference detected!
Wikia is a free-to-use site that makes money from advertising. We have a modified experience for viewers using ad blockers

Wikia is not accessible if you've made further modifications. Remove the custom ad blocker rule(s) and the page will load as expected.