Helghast Police
Talk

0
571pages on
this wiki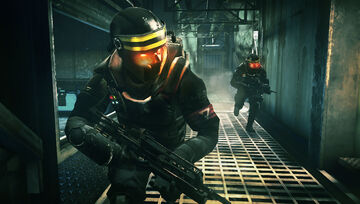 Killzone Mercenary 
Edit
These domestic troops appear for the first time in Killzone: Mercenary. Hunting down Arran Danner as he attempts to rescue the Vektan Ambassador's son Justus.
Interestingly they wear red armbands with the Stahl Arms logo which suggests their true loyality, though this detail is never mentioned or explained.   
They appear as enemies in the black market area of Konstantine city, ordered by Kratek to locate and apprehend the rogue doctor Mandor Savic. Justus Harkin explains that they treat, and possibly abuse, civilians harshly. Blackjack also states that anyone they arrest disappear and are never seen or heard from again, possibly imprisoned or executed. 
Rumors from Helghast civilians suggest that they bring anyone they arrest to Kratek as test subjuects for his experimental weapons.
They have two variants to their body armor; the most common type is a riot cop uniform as seen above, and one wearing full metal body armor.   They have an air transporter called the Stinger which is similar to the Intruder in terms of transportation.