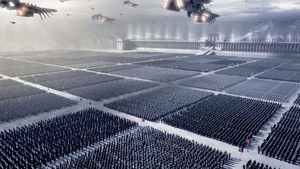 The Helghast First Army, under the command of Colonel Radec, was in charge of defending Helghan from the ISA forces during their invasion of the Helghast homeland.
Most likely formed after the Helghast Third Army attempted and failed to conquer Vekta, the Helghast First Army was created to defend Helghan from the ISA who were preparing for a full-scale invasion. Much of their efforts to fend off the ISA invasion failed because of the PTC, of which one of its personnel, Arran Danner was solely responsible for the destruction of the Arc Towers and the small helghast fleet around it, which was pinning down the ISA fleet, as well as the destruction of the Pyrrhus Refinery, which was powering the remaining Arc Towers using raw petrusite. A small detachment of the Helghast First Army attempted to kill the Harkins and Savic, but were stopped by mercenary Arran Danner and their bodyguard, Borischek.
Their Arc defenses were penetrated during the ISA invasion of Helghan and fought the ISA in Pyrrhus. After the detonation of the nuclear bomb "Red Dust" in Pyrrhus, the vast majority of the Helghast First Army died in the blast along with the ISA forces close to the detonation.
Notable Personnel
Edit
Admiral Orlock (KIA)
Mael Radec (KIA)
Vyktor Kratek (KIA)