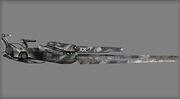 The Helghast Fast Attack Boat is the aquatic equal of the Helghast Jet Bike, and similarly useful for scout and escort missions on water. Its tremendous speed and mounted StA-3 Stova heavy machine guns more than make up for the lack of armor.
It is a compliment of the Helghast Assault Boat, which it usually escorts onto beaches/docks.
Ad blocker interference detected!
Wikia is a free-to-use site that makes money from advertising. We have a modified experience for viewers using ad blockers

Wikia is not accessible if you've made further modifications. Remove the custom ad blocker rule(s) and the page will load as expected.