Helghan Industries is a dark, medium sized multiplayer map from Killzone 2 with indoor areas, as well as an outdoor crossing underneath a skybridge (propaganda device up there). It'll always be big on this map, plenty of action. The C&R game mode excels here.
Strategies
Edit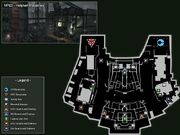 The turrets on either side of the map can quickly clear the roadway and rack up a lot of points.
Be careful when on the top level, as snipers generally pay attention to this area.
Don't forget the less traversed path, the one with red lights near the spawn point.
Coordination on search and destroy in this gametype is key, since the points are far away from each other.
Ad blocker interference detected!
Wikia is a free-to-use site that makes money from advertising. We have a modified experience for viewers using ad blockers

Wikia is not accessible if you've made further modifications. Remove the custom ad blocker rule(s) and the page will load as expected.