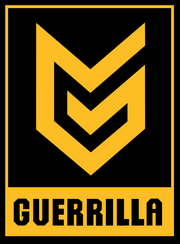 Guerrilla Games are the developers of Killzone, Killzone: Liberation, Killzone 2, Killzone 3,  and Killzone: Shadow Fall.  Guerrilla Games is best known for it's Killzone franchise; exclusive to PlayStation. On 18 August 2010 during a press briefing at Gamescom in Cologne, Germany, managing director Hermen Hulst confirmed that Guerrilla Games' next title would be an all-new intellectual property, making it Guerrilla's first game not based on the Killzone series since  Shellshock: Nam '67. This new IP was revealed in 2015 as Horizon: Zero Dawn and was released in 2017.
Founded in 2000 as the result of a merger between three smaller Dutch studios, Guerrilla set up in Amsterdam and developed the game Shellshock: Nam '67 under Eidos Entertainment. In 2004, GG worked under Sony and released Killzone. Sony Computer Entertainment soon purchased them in 2005 and added them to their library of first party studios.
In 2006, they released their first portable game, Killzone: Liberation. Proving that GG's quality was increasing game by game, SCE instantly put them in development of Killzone 2 for the PlayStation 3 before the console was even released. After a long wait, Killzone 2 was released in February 2009 after many delays. It's metascore of 91 shows how the studio has taken to the PS3's hardware and changed over the course of almost a decade.
Killzone 3 was released February 22nd, 2011 to much anticipation. While being criticized by many fans and critics for a lackluster storyline and tone, the game has still received very good reviews, particularly in relation to the combat and graphic design. On August 15th, 2012 at Sony's Gamescom Press Conference, Killzone: Mercenary was announced for the PlayStation Vita. It was developed by Guerrilla Cambridge (formerly SCE Cambridge). In February 2013, Guerilla announced Killzone: Shadow Fall, released on the PlayStation 4.
External links
Edit