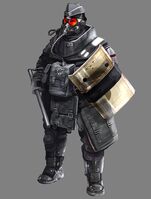 The Guard Trooper are Helghan infantry deployed by the Helghan Empire for duty roles that cover crowd control on the Helghast homeworld.
They are equipped with stun batons as well as thermoplastic shields and are often found near buildings or mission objectives that suffer attacks from multiple enemy troops. In order to prevent a trooper from being overrun, Guard Troopers are often trained to work in pairs.
General Metrac deployed large number of Guard Trooper units on Vekta after realizing their effectiveness in urban occupation campaigns.