The FSK-7 Fury Combat Knife is more of a light axe than an actual knife. The blade is weighted to increase the power of hacking and slashing enemies.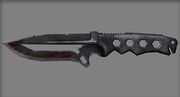 The FSK-7 Fury Combat Knife appears only in Killzone 1. It's the Helghast combat knife. Its equivalent is the M32 Knife. Only Hakha can use it.
Properties
Edit
Ad blocker interference detected!
Wikia is a free-to-use site that makes money from advertising. We have a modified experience for viewers using ad blockers

Wikia is not accessible if you've made further modifications. Remove the custom ad blocker rule(s) and the page will load as expected.