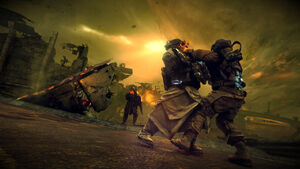 Corinth Highway is a multiplayer map in Killzone 3. It is a medium sized map used for the Warzone gamemode.
A distinctive feature is that you have the ability to drive an Exoskeleton if you are lucky enough to take control of it before someone else does. The map also has mounted WASP launchers at the corners of the spawns, useful for taking out enemy Exos and Sentry bots .
Ad blocker interference detected!
Wikia is a free-to-use site that makes money from advertising. We have a modified experience for viewers using ad blockers

Wikia is not accessible if you've made further modifications. Remove the custom ad blocker rule(s) and the page will load as expected.