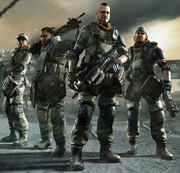 Alpha Squad was an ISA elite special forces squad consisting of the members Sergeant First Class Tomas Sevchenko, Lance Corporal Dante Garza , Master Sergeant Rico Velasquez, and Corporal Shawn Natko. Halfway through the story, Dante Garza gets shot by one of Colonel Mael Radec's guards just as that guard gets shot by Rico during his insane rescue attempt. In Killzone 3 the remnants of Alpha Squad continue under the command of Captain Narville during the attempts by the remaining ISA troops to escape from the Helghast army. 
Alpha Squad bears a resemblance to a fictional military group famously called "The A-Team." This is because the group consists of 3 light-skinned and 1 dark-skinned characters and is often sent on so-called "suicide missions". They also share some similar personalities each character has that resembles some of the characters in the A-Team.
Quotations
Edit
Rico :
"Oh, headshot."
"Man, save some for me."

Natko :
"Hey, not bad."
"Visari Square, yippidy fuckin doo-da."

Garza :
"Nice shot."
"Oh man, you're cleaning that one up." (after scoring a headshot)
Ad blocker interference detected!
Wikia is a free-to-use site that makes money from advertising. We have a modified experience for viewers using ad blockers

Wikia is not accessible if you've made further modifications. Remove the custom ad blocker rule(s) and the page will load as expected.